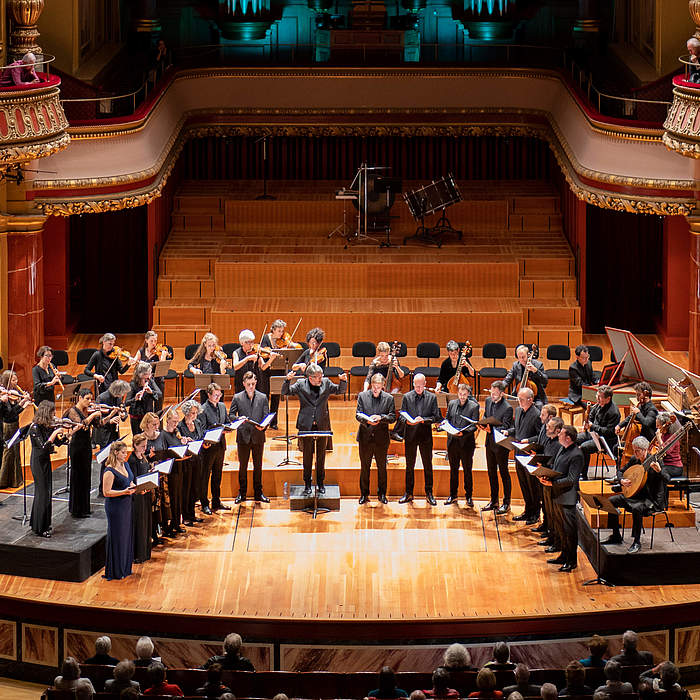 Gli Angeli Genève was founded in 2005 by Stephan MacLeod. A formation of varying size playing on period instruments (or copies thereof), the ensemble is made up of musicians with careers in the field of baroque music, but who do not focus solely on playing early music. Their eclectic makeup unfailingly fuels the fire of their enthusiasm. From the outset, Gli Angeli Genève has been the platform for bringing together some of the most famous singers and instrumentalists in the international baroque scene and young graduates from the Hautes Écoles de Musique of Basel, Lyon, Lausanne, and Geneva.
Internationally acclaimed since the release of its first two CDs in 2009 and 2010, the ensemble now performs over fifteen concerts in Geneva, every season, within the framework of its Complete Bach Cantatas, a series of concerts at the Victoria Hall, the annual Haydn-Mozart festival created by the ensemble in 2021, and lastly, the Chambre des Anges, a new series of concerts launched in 2022 dedicated to chamber music. The ensemble is just as sought after abroad as it is at home for its performances not just of Bach, but also Tallis, Josquin, Schein, Schütz, and Johann Christoph Bach, amongst others.
Gli Angeli Genève has been in residence at the Utrecht Festival and Thüringer Bachwochen, in recent seasons; it has also performed in Basel, Zurich, Lucerne, Barcelona, Nürnberg, Bremen, Stuttgart, Brussels, Milan, Wroclaw, Paris, Ottawa, Vancouver, Amsterdam, and The Hague. The ensemble made its debut at the Grand Théâtre de Genève in 2017 and at the KKL in Lucerne in 2019. At the Haydn-Mozart Festival, Gli Angeli Genève collaborates with guest conductors and artists: Michel Corboz in 2021, Kristian Bezuidenhout in 2022 and Philippe Herreweghe in 2023.
Gli Angeli Genève's first recoding for Claves Records, Sacred Music of the 17th Century in Wroclaw, won the ICMA prize in 2019 for best vocal baroque music recording of the year, and its rendition of Johann Sebastian Bach's St. Matthew Passion received enthusiastic reviews, from audiences and critics alike, both in Switzerland and the rest of the world. The last CD released in October 2022, Mozart's Concertos for flute and orchestra, with Alexis Kossenko (flute) and Valeria Kafelnikov (harp) was nominated for the "Concerto" category at the 2023 ICMA.