assistant conductor
The OSR offers the opportunity to work directly with Jonathan Nott and the orchestra as assistant conductor in preparing concerts, recordings, operas and touring programmes as well as gaining valuable experience in orchestra management for the 2022-23 season
The Orchestre de la Suisse Romande congratulates Ana María Patiño-Osorio on her appointment to the newly created position of Assistant Conductor for the 2022-23 and 2023-24 seasons.
Born in Colombia in 1995, Ana María Patiño-Osorio completed her Bachelors in conducting at the Universidad EAFIT in Medellin, then graduated from the Masters programme of Orchestral Conducting at the Zürcher Hochschule der Künste as a student of Johannes Schlaefli in 2021.
In the same year she won the National Prize for best Conductor of the Orquesta Filarmónica de Bogotá. Finalist of the Solti International Conducting Competition in 2020, she has also participated in the Tanglewood Festival, and in masterclasses with Herbert Bloomsted, Matthias Pintscher, Bernard Haitink, amongst others.
Find here the whole biography of Ana María Patiño-Osorio..
On her experience at the competition, Patiño-Osorio says "I think something wonderful about the audition was that we played a lot of pieces from Mozart to Webern, and then Jarrell which is very new. From the beginning I have the feeling they want to see a lot of styles, a lot of music…".
What impressed Jonathan Nott about our winner? "A mix of her ability to conduct, to communicate and the charm with which she engaged each of the musicians. She created a real chamber music atmosphere within the orchestra."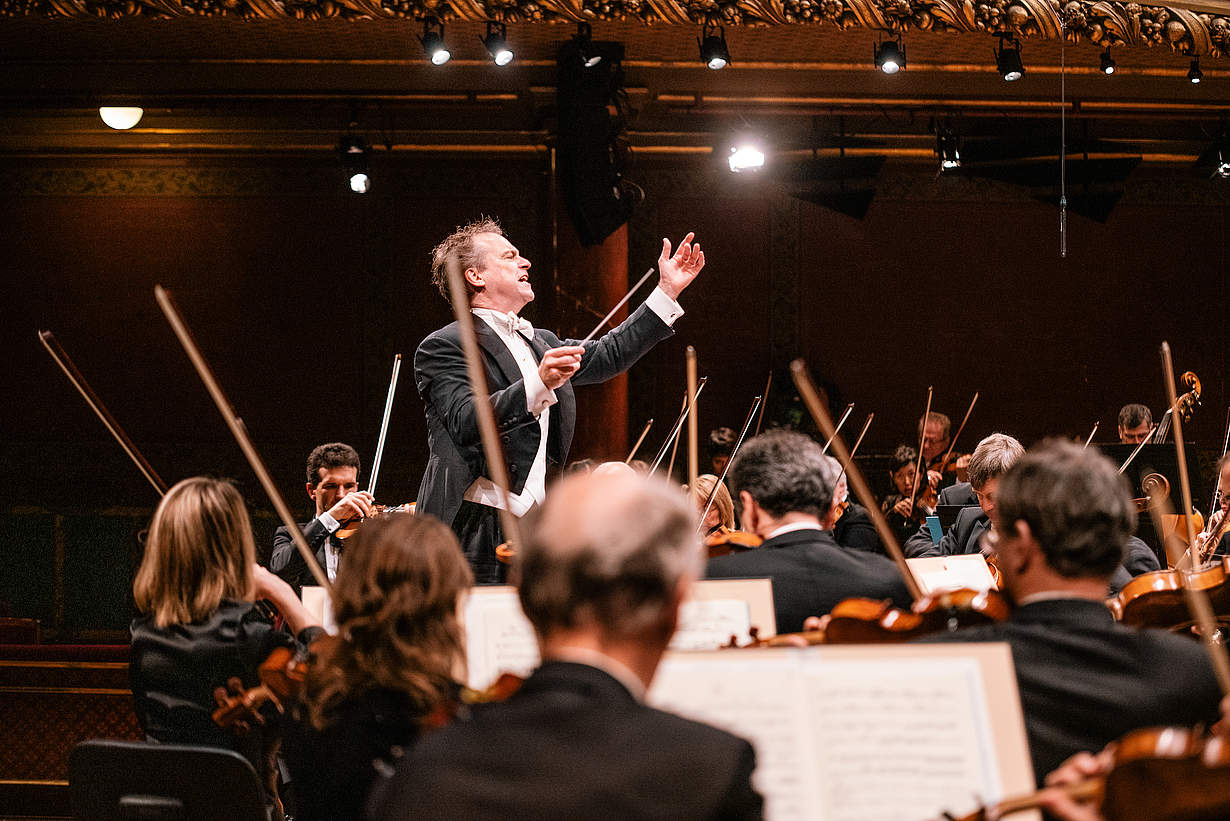 As part of a conductor training programme, the aim of the proposed position as assistant conductor of the Orchestre de la Suisse Romande is to prepare the candidate for his or her future career as a conductor or music director. The programme includes work with the Orchestre de la Suisse Romande and its musical & artistic director, the development of outreach projects, as well as an introduction to the different functions that support the musicians of the Orchestra, e.g. awareness of production set-up, orchestra equipment, music library, communication, box office & audience development, and operating costs.
Musical activites with the orchestra
Assist the Music and Artistic Director and guest conductors during rehearsals, concerts, recordings, tours and the recruitment of musicians.

Assist the Music and Artistic Director of the OSR in productions at the Grand Théâtre de Genève.

Prepare and conduct a series of concerts for young audiences or families, with commentary in French.
Activities related to the Orchestra
Participate in cultural activities, e.g. conducting workshops, career days and conferences.

Assist the artistic department, especially in the guidance of soloists and guest conductors

Attend meetings of the artistic committee.
Orchestral management
Attend OSR management training days (15 to 20 days during the season).

Introduction to the work of different departments: librarian, artist management, orchestra management (administrative and technical parts), communication, fundraising (sponsoring and patronage) and administrative & financial management.

Introduction to programming for young audiences.
Other functions to be defined pending discussion with the orchestra's management.