Mikhail Petrenko is unwell; he is replaced by Patrick Bolleire who kindly agreed to take his place at short notice.
Romeo & Juliet
Wednesday
23.11.2022
19:30 — Victoria Hall
Series O
Thursday
24.11.2022
20:15 — Théâtre de Beaulieu
Lausanne 5
Series Lausanne
programme
Daniel Harding
conductor
Marie-Nicole Lemieux
contralto
Andrew Staples
tenor
Patrick Bolleire
bass
Chœur de l'Orchestre de Paris
choir
Hector Berlioz
Romeo and Juliet, Op. 17
---
the music
Berlioz' extravagant vision and genius is particularly well attuned to the power of that of Shakespeare. His great dramatic symphonic work Roméo et Juliette is dedicated to his friend Paganini, whose generosity allowed Berlioz to compose for a plethora of musicians, a large choir and three vocalists. In fact, writing this third symphony, Berlioz was inspired by the Ninth Symphony of his hero Beethoven, who had reinvented the format twenty years earlier.
The premiere was one of the rare successes of his Parisian career, and the whole city attended the event. Amongst the audience was Richard Wagner, so impressed that he declared he felt like "a schoolboy" in comparison to Berlioz.
---
---
the venues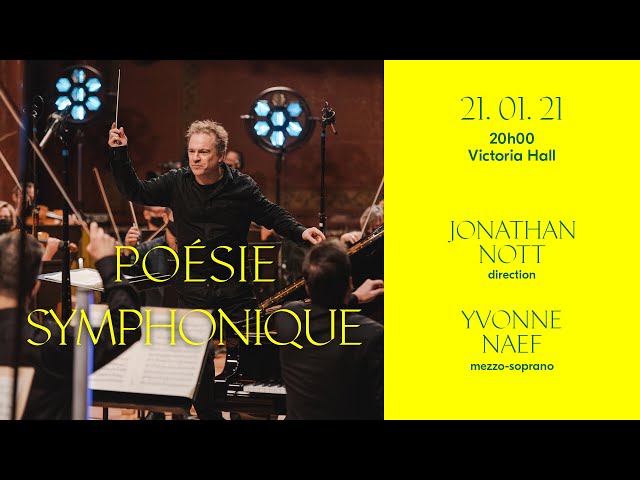 JONATHAN NOTT
Conductor
Yvonne Naef
mezzo-soprano
György Ligeti
Poème symphonique, pour cent métronomes

Johann Sebastian Bach
Komm süsser Tod (orchestration by Leopold Stokowski)

Gustav Mahler
Kindertotenlieder, for mezzo-soprano and orchestra
Recorded on 21 January 2021 at Victoria Hall, Geneva