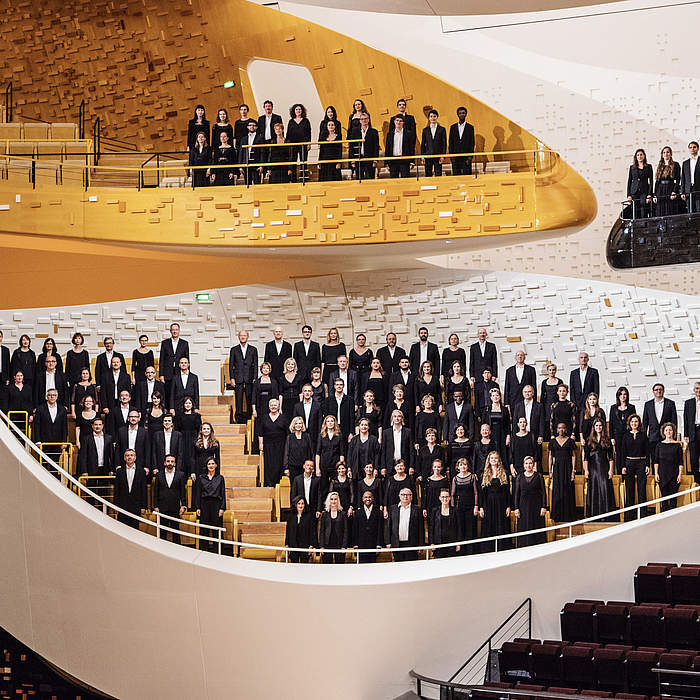 Established in 1976 under the prompting of Barenboim, the Orchestre de Paris Choir has since been conducted by Oldham (1976-2002), Bouture and Jourdain (2002-2010), and Sow from 2011. Since January 2022, Korovitch and Roose have taken over the position of conductor to continue the brilliant work over the last ten years.
The symphonic Choir comprises 180 singers, all passionate and experienced amateur musicians, who dedicate a large part of their free time to live a formidable musical adventure! This large choir is divided into a main choir, a chamber choir and an academy allowing each singer to find the training adapted to their level and practice. A children's choir (120 singers aged 9 to 14) and a youth choir (50 singers aged 15 to 18), organised during extra-curricular activities in partnership with 3 Parisian conservatories and the CRR of Aubervilliers-La Courneuve, complete this large ensemble. The various groups that make up the Orchestre de Paris Choir thus reach several generations of singers: in total, more than 350 children, young people and adult amateurs defend with talent and passion the great works of the symphonic, choral and a cappella repertoire.
The commitment of the Choir has been warmly praised by the conductors with whom it has worked: Barenboim, Young, Tilson Thomas, Harding, Chailly, Salonen, Gergiev. As a result, it has now risen to the level of the greatest European amateur vocal ensembles.