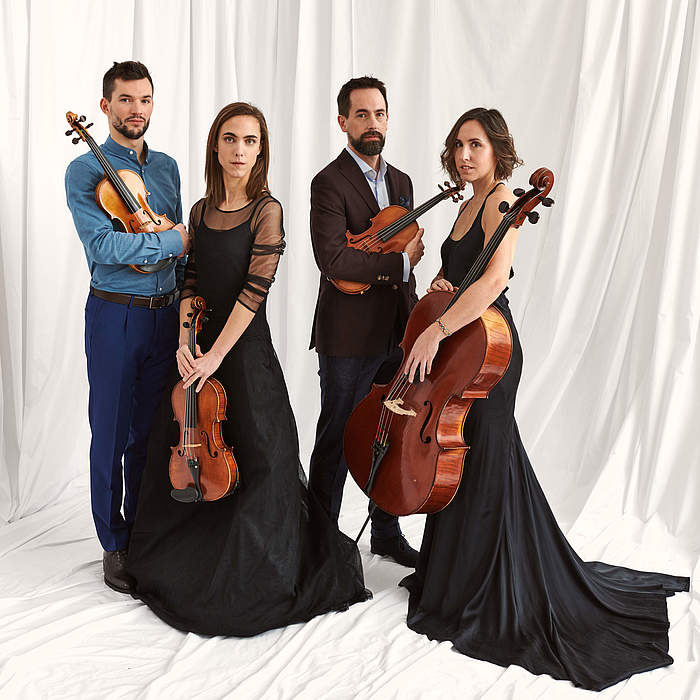 From Paris to the whole world, its reputation now precedes it, just as it does in the arcanes of classical music, whose walls the TANA Quartet has enjoyed pushing back for a decade. Ten years of scouring the world's most beautiful concert halls, to the sound of some 250 creations to date. Ten years of sharing and commitment, thanks to social dissemination, research and teaching. Ten years of envy, crowned by prestigious awards.
Since 2010, the Tana Quartet has enjoyed combining its scores at all times. Driven by the desire to create, Tana combines aesthetics, decompartmentalizes, confronts and compares them, reinventing the link between past and future, forging its tradition. The quartet has performed in the most famous concert halls - from the Philharmonie de Paris to the Palau de la Musica in Barcelona, the Villa Medici in Rome and the Wiener Konzerthaus - winning many prestigious prizes: 1st HSBC Laureate of the Académie du Festival d'Aix-en-Provence, Coup de Cœur de l'Académie Charles Cros, Prix Fuga, and les Octaves de la musique.
The Tana Quartet is a recognised player in contemporary music, having worked closely with composers worldwide and premiered over 250 works, including Fedele, Hurel, Parra and others. The quartet's discography includes twelve albums, comprising Shadows that contributed to the rise of the saturation movement; the complete string quartets of Philip Glass (CHOC Classica 2018); and most recently, Bleu Ébène, featuring the complete string quartets of the composer Achenberg.
The Tana Quartet are also active in musical research and are partners of several national creation centres, including IRCAM, GMEM, GRAME, Art Zoyd, and the Centre Henri Pousseur. In 2015, the quartet created its electroacoustic instruments, the TanaInstruments. Tana then signed the first piece for TanaInstruments, Smaqra, with the composer Arroyo, a composition that called for others gathered on the VOLTS disc, marking "a milestone in the history of the quartet genre" (classiquenews.com).
The Quartet is now composed of :
• Antoine Maisonhaute,first violin
• Ivan Lebrun, second violin
• Natanael Ferreira, viola
• Jeanne Maisonhaute, cello