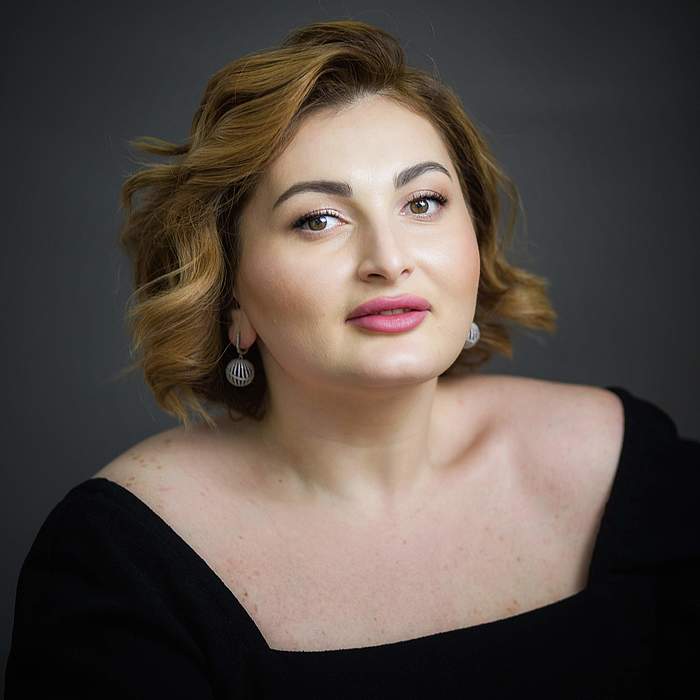 Zarina Abaeva was born in Vladikavkaz, in Russia, where she studied at the College of Arts.​ V.A. Gergiev.​ Then she entered the vocal faculty of the Russian Academy of Music.​ She is nominated in the All-Russian Competition for Young Vocalists, named after​ N. Obukhova, in Lipetsk in 2010 and participates in the Minsk International Christmas Vocal Competition in 2016 and won the 3rd prize.​ In 2015, the singer was nominated for the Russian National Golden Mask Award for her performance of Anthony's part (Offenbach's Tales of Hoffmann).
Since 2012 she sang as soloist of the Perm Opera, and since 2019 she was invited soloist of the Moscow theater New Opera named after​ E.V. Kolobova.
In her theatrical repertoire: Iolanta ("Iolanta"), Tatyana ("Eugene Onegin"), Maria ("Mazepa"), Agnes Sorel ("Orleans maiden") - in the operas of P. Tchaikovsky;​ Michaela (Carmen), Mimi (Boheme), Cio Cio San (Madame Butterfly) in Puccini's operas;​ Virgin Mary ("Jeanne at the stake" by Onegger).​ The singer also took part in concert performances such as in the title part of Suor Angelica and Aida, Katya ("Passenger" by Weinberg), Blanche ("Dialogues of Carmelites" of Poulenc), Gorislava ("Ruslan and Lyudmila" Glinka), Ninette​ ("Love for Three Oranges" by Prokofiev).
Zarina Abaeva collaborated with directors such as Romeo Castelllucci, Philippe Himmelmann, Katerina Evangelatos.