Zimmermann plays Schumann
Wednesday
26.01.2022
19:30 — Victoria Hall
series R - spring
series R+
Thursday
27.01.2022
20:15 — Salle Métropole
Series Lausanne
Grand Mécène
programme
Jonathan Nott
conductor
Frank Peter Zimmermann
(artist in residence) violin
Robert Schumann
Concerto for violin and orchestra in D minor
Johannes Brahms
Symphony No 2 in D major op. 73
---
the music
Set a course for romantic Germany for this concert celebrating the friendship between Brahms and Schumann.
Completed the day after the young Brahms' first visit to the Schumanns by a composer whose mental faculties were already beginning to decline, it was Brahms himself who saved the manuscript of the Violin Concerto in D minor that Clara Schumann wanted to destroy. Rejected by its dedicatee, Joseph Joachim, Schumanns concerto laid forgotten until its resurrection in 1937 by the Nazi regime before Yehudi Menuhin masterfully introduced it to New York in 1938. This little-loved concerto has gradually risen to prominence in the concerto repertoire alongside those by Beethoven, Mendelssohn and Brahms.
The latter's Symphony No. 2 is a happy, serene work. The curtain gradually rises from the mists of northern Germany to end in an almost Mediterranean light in D major that is as thunderous as it is joyous.
Spoiler alert! We could not resist sharing this short extract of the 4th movement of Brahms second symphony, recorded by the OSR and Marek Janowski on 23.09.2009 :
---
---
the venues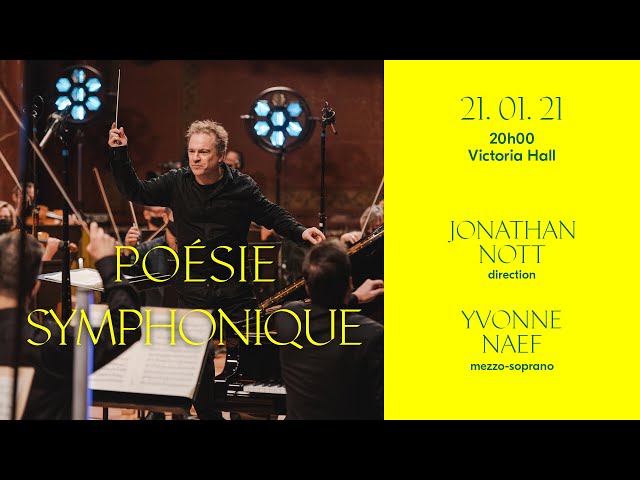 JONATHAN NOTT
Conductor
Yvonne Naef
mezzo-soprano
György Ligeti
Poème symphonique, pour cent métronomes

Johann Sebastian Bach
Komm süsser Tod (orchestration by Leopold Stokowski)

Gustav Mahler
Kindertotenlieder, for mezzo-soprano and orchestra
Recorded on 21 January 2021 at Victoria Hall, Geneva