Musica Viva in Munich
Thursday
29.09.2022
19:30 — Prinzregententheater
tour
Mécène
programme
Jonathan Nott
conductor
Ensemble Intercontemporain
solists
Léonard Frey-Maibach
cello
Rebecca Saunders
Wound (2022)
Dieter Ammann
Boost, for orchestra
Pierre Boulez
Messagesquisse pour violoncelle solo et six violoncelles, sur le nom de Paul Sacher
Dieter Ammann
Glut, for orchestra
---
the music
The Orchestre de la Suisse Romande will perform for the first time as part of the musica viva series in Munich..
The programme presents the works of three great composers of the 21st century.
Firstly, Rebecca Saunders' latest creation, comissioned by the Ernst von Siemens Music Foundation, Orchestre de la Suisse Romande, Ensemble intercontemporain, Casa da Música Porto & Radio France, and furthermore two pieces by the Swiss composer Dieter Ammann, and Messagesquisse for solo cello and 6 cellos, by Pierre Boulez.
Rebecca Saunders seems to shape her music like a sculptor: with an unbridled imagination and ever-new techniques, the composer digs deeper into the hidden layers of sound events, to "weave the sounds into a fabric in such a way that it is impossible to know where they come from and where they go". Her new work, which will have its world premiere with the musicians of the OSR and the 12 soloists of the Ensemble Intercontemporain, explores the multiple possibilities of musical interaction. Saunders was awarded the Ernst von Siemens Music Prize in 2019.
Dieter Ammann celebrates his 60th birthday in 2022 and is recording a new album with the OSR. Two works included in the CD, Boost and Glut, will be performed at the concert.
Finally, Pierre Boulez's Messagesquisse - created on the occasion of Paul Sacher's 70th birthday - is a firework display based on the name of the dedicatee transposed into music, which surpasses even the serial creations of Anton Webern.
---
---
the venues
Prinzregententheater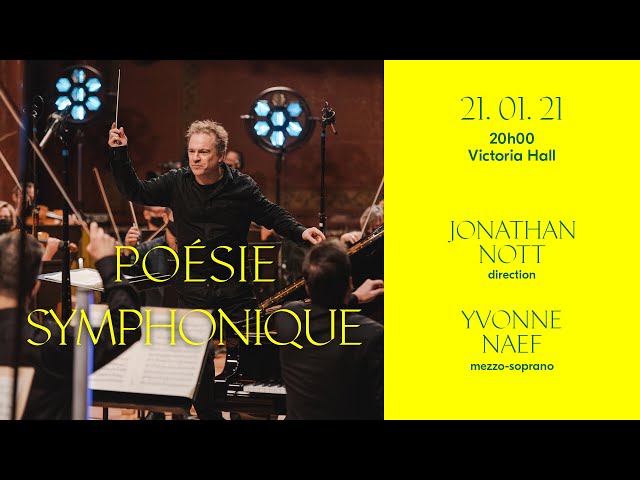 JONATHAN NOTT
Conductor
Yvonne Naef
mezzo-soprano
György Ligeti
Poème symphonique, pour cent métronomes

Johann Sebastian Bach
Komm süsser Tod (orchestration by Leopold Stokowski)

Gustav Mahler
Kindertotenlieder, for mezzo-soprano and orchestra
Recorded on 21 January 2021 at Victoria Hall, Geneva