Back from the tour!
From KKL to the Berliner Philharmoniker, via the Isarphilharmonie of Munich!
The Orchestre la Suisse Romande is back in Geneva after almost a month on tour! From the KKL in Lucerne to the iconic Berlin Philharmonic, via Cologne, Bremen, Munich, Antwerp and Lille, the musicians gave seven superb concerts with the breathtaking pianist Khatia Buniatishvili. The Orchestra received rave reviews in each city:
Bei allen drei Werken bewunderte man die oszillierenden orchestralen Farben, welche das großartig aufspielende Orchestre de la Suisse Romande (OSR) zu Gehör brachte. In
Honeggers jazzig unterhaltsamen Stück bewunderte man die musikantische Rhythmik, die originelle Instrumentation, diese ständige, aber nie nervende sondern zum Schmunzeln animierende Unruhe und die überraschenden Wendungen. Das Stück ist kurz, prägnant und einfach ganz große Klasse – vor allem wenn es mit so viel hörbarer Freude am gemeinsamen rhythmisch präzisen Musizieren präsentiert wird.
Kaspar Sannemann, Der Opernfreund, 11.02.23
Die Pianistin und der Chefdirigent Jonathan Nott rollten gemeinsame Rubati perfekt abgestimmt aus, kleine Höhepunkte setzten die Dialoge von Klavier und Orchestersolisten. Danach schoss die jubelnde Gemeinde spontan aus den Sitzen, finale Begeisterung hat Tschaikowsky eigens mitkomponiert.
Olaf Weiden, Kölnische Rundschlau, 17.02.23
La mise en place, les contrechants mais aussi la construction sont impeccables. Au hautbois, Nora Cismondi a des superbes phrasés dans la « Marche funèbre ». Au cor, Jean‑Pierre Berry est très solide. Jonathan Nott, qui avait fait jouer la phrase initiale du mouvement lent de la Première Symphonie de Mahler par l'ensemble des contrebasses (voir ici) fait jouer certaines pages du Finale par les chefs de pupitres des cordes, permettant à Bogdan Zvoristeanu, Sidonie Bougamont, Frédéric Kirch et Lionel Cottet de briller.
Antoine Leboyer, Concertonet.com, 26.02.23
Ein Werk überquellender Einfälle, die an diesem Abend in bewundernswerter Transparenz und mit feinstem Gespür für die intendierten instrumentalen Effekte gespielt wurden.
Bernhard Hartmann, General-Anzeiger, 17.02.23
Our warmest thanks to the audiences for their welcome and enthusiasm, to our musical and artistic director, to the musicians, to the technical staff of the Orchestra, to our tour partners and of course, a huge thank you to Khatia Buniatishvili for accompanying us!
photo reportage on the highlights
Photo © Peter Adamik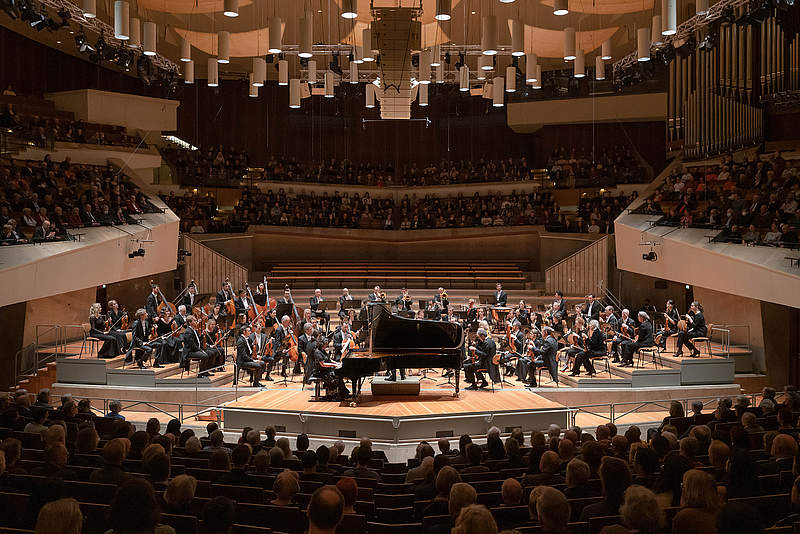 News list