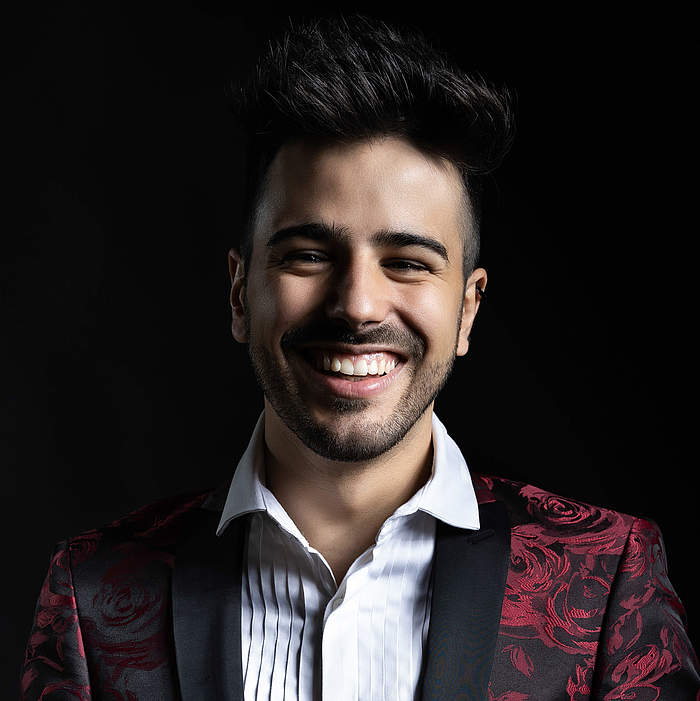 Valerio Lisci graduated from the Conservatory of Turin with Gabriella Bosio continuing his studies in Lausanne, where he obtained two Masters of Arts with Letizia Belmondo. The Haute École de Musique de Lausanne conferred him a special award for his talent during the graduation ceremony.
Valerio has participated in numerous international competitions, almost always winning the first prize. In 2012 First Prize at the International Competition City of Cagliari, in 2016 First Prize at the International Competition Suoni d'Arpa in Saluzzo, in 2018 he won the First Prize both in Seoul, at the Korea International Harp Competition, and in Vienna, Reinl-Stiftung Foundation Competition. Finally, in 2019 he won the silver medal (Second Prize) at the 11th USA International Harp Competition. On this occasion he also won the special prize for the best performance of a contemporary piece.
In 2021 it begins his presence as jury member in the International Harp Competition "Suoni d'Arpa" in Saluzzo.
Three foundations awarded Valerio the First Prize and financed and promoted him: in 2014 the CRT Foundation of Turin, in 2017 the Kiefer Hablitzel of Bern and in 2018 the Schenk of Zofingen.
Valerio performs as a soloist in Europe, the United States and Korea.
In 2020 he has been as a guest artist of the Milano Concert Society.
Some festivals he has participated in are the Menuhin Festival in Gstaad, the Korea Harp Festival in Seoul, the O/Modernt Festival in Stockholm, the Musikdorf in Ernen, Arpa Plus in Zaragoza, the Mizmorim Festival in Basel, Incontri Musicali in Milan, Unione Musicale in Turin, Viotti Festival in Vercelli. The most important performances include Debussy's Dances in Turin with the Camerata Ducale, the Concerto by R. Gliere in Zofingen with the Argovia Philharmonic and the Aranjuez Concerto by J. Rodrigo in Lausanne with the Chamber Orchestra of Lausanne.
Valerio has the desire to expand the harp repertoire and dedicates himself to the composition of original pieces and transcriptions for his instrument. His Composition "Maschera" arrives in the final stage of the Inglefield Contest 2021 of the USA International Harp Competition and it has been performed in the Composition Forum in Bloomington, Indiana in July 2022.
From 2017 to 2021 he has been Professor of Harp at the High School of Saluzzo, home of the "Suoni d'Arpa" harp festival, of which he is also member of the Artistic Committee. Since 2019 he has been Professor of harp and chamber music at the Licinio Refice Conservatory in Frosinone.