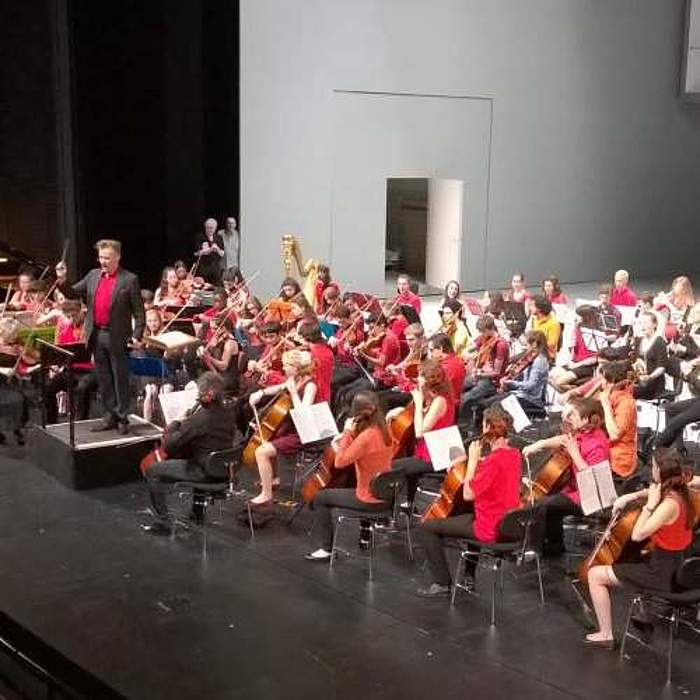 The Orchestre du Collège de Genève was founded in 1962. After very modest beginnings, it has become a large symphonic ensemble that now brings together students from all the schools of the Collège de Genève. It aims to help thousands of young people discover and experience the reality of a large symphony orchestra as well as the joy of playing pieces from great repertoires together. By its very nature, it is constantly evolving: a third of the workforce changes each year. The reason it has not simply survived, but developed over 60 years, is thanks to the enthusiasm, energy, competence and relentlessness of its two successive conductors who have tirelessly introduced dozens of generations of young musicians to orchestral work: Paul-Louis Siron conducted it from its creation until June 1990, when Philippe Béran then succeeded him. The musical work of this professional conductor and his assistant Arsène Liechti is the embodiment rigor, regularity and precision. It also trains middle school students in the professional reality of large symphony orchestras.
The Orchestre du Collège de Genève often gives its young members the opportunity to play a piece from a great repertoire as a soloist for the first time. It also offers its audiences creations, such as "From Byzantium to Istanbul", written for its fiftieth anniversary by the young Geneva composer Michel Godel, then 19 years old and a member of the College Orchestra. A second work by Michel Godel "Dudley Bedloe" premiered in December 2014.
He participates in the Septembre Musical Montreux-Vevey Classical Music Festival and performs regularly with the Orchestre de la Suisse Romande and in the pit of the Grand Théâtre de Genève. He also plays with other school orchestras such as L'OCO-motion (the Orchestre du Cycle d'Orientation en mouvement) and primary school choirs.