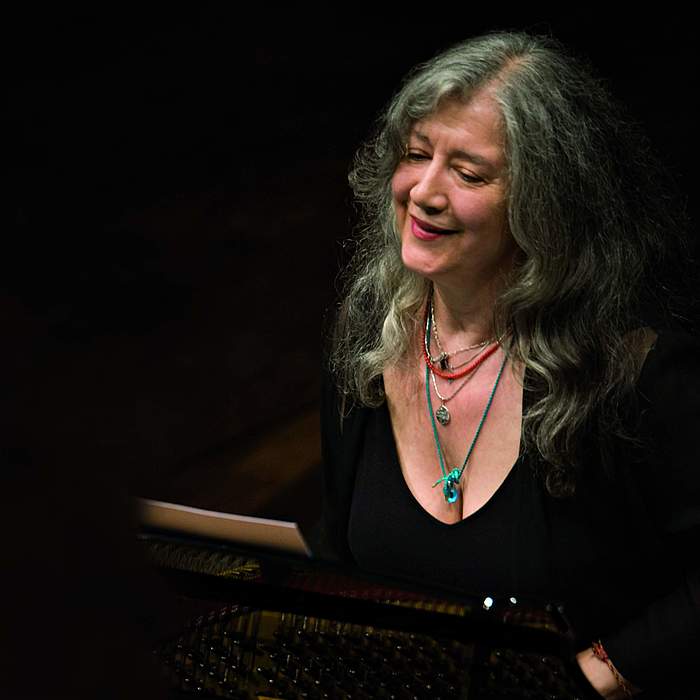 A permanent guest at the most prestigious orchestras and festivals in Europe, Japan, America and Israel (with Zubin Mehta and Lahav Shani), Martha Argerich is considered one of the greatest pianists of her generation. If her temperament leads her to works of virtuosity from the 19th and 20th centuries, she refuses to be identified as a specialist. Her repertoire is very extensive and includes Bach as well as Bartok, Beethoven, Schumann, Chopin, Liszt, Debussy, Ravel, Franck, Prokofiev, Stravinski, Shostakovitch, Tchaikovski, and Messiaen.
Born in Buenos Aires, Martha Argerich studied piano since the age of five with Vincenzo Scaramuzza. Considered a child prodigy, she performed very early on stage. She travelled to Europe in 1955 and studied in London, Vienna and Switzerland with Seidlhofer, Gulda, Magaloff, Madame Lipatti and Stefan Askenase. Martha Argerich won first prizes at the Bolzano and Geneva competitions in 1957, and then the Chopin competition in Warsaw in 1965.
Her discography has won numerous awards, such as the Grammy Award for the Concertos by Bartok and Prokofiev with Charles Dutoit and the Gramophon – Artist of the Year. Her latest recordings include Beethoven's Concertos N01 and N03 (Grammy Award) as well as Mozart's Concertos N020 and N025 with Claudio Abbado, Berlin recital with Daniel Barenboim (Mozart, Schubert, Stravinsky), a record of lives in Buenos Aires with Daniel Barenboim, dedicated to Schumann, Debussy, Bartok, and a duet record with Itzhak Perlman dedicated to Schumann, Bach, and Brahms.
Martha Argerich has received numerous honours, including "The Order of the Rising Sun, Gold Rays with Rosette" (for her contribution to the development of musical culture and her support for young artists) by the Japanese government, and the prestigious "Praemium Imperiale" prize by the Emperor of Japan in 2005.