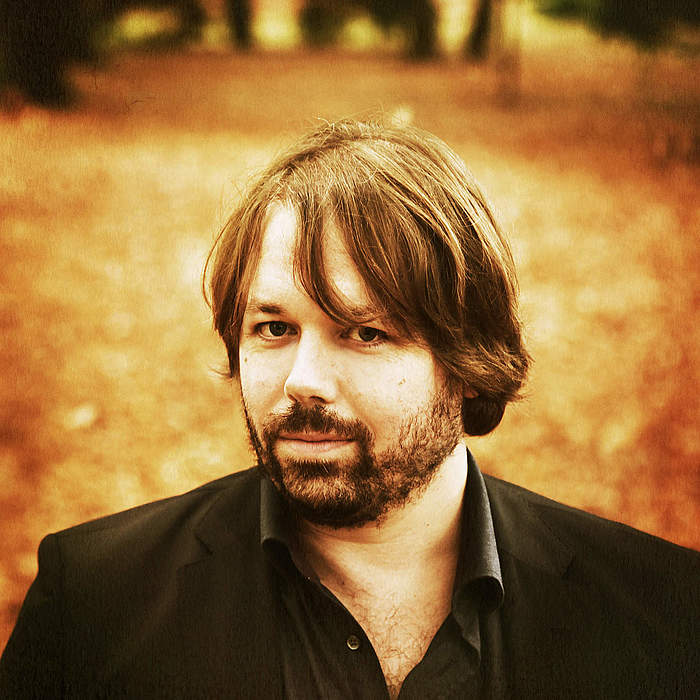 In trio, solo or with the group Aksham, Marc Perrenoud has shown that he is more than a virtuoso pianist, he is a composer never short of ideas, skilled in varying introspective landscapes, dynamics and colours - Télérama
Marc Perrenoud is a renowned jazz pianist and the co-founder and artistic director of the Les Athénéennes festival in Geneva (which this year welcomes John Malkovich!). Together with Marco Mueller, double bass, and Cyril Regamey, drums, they have performed over 500 concerts in more than 60 countries. He also created and co-leads his new quintet, Aksham, with French trumpeter David Enhco and Albanian singer Elina Duni. Their first record was released in February 2019 on the French label NOME. He teaches at the Haute école de musique in Geneva.
Born in 1981 in Berlin, Marc Perrenoud started playing the piano at the age of six. He studied first in Zurich, then at the Conservatoire de Lausanne (HEMU) from where he graduated in 2004. He has won numerous several competitions, including the Montreux Jazz Chrysler Award in 2003, the Friedl Wald Scholarship, Zurich in 2005, and the prize for best soloist at the International Jazz Festival in Bern in 2006. He was also a finalist of the International Jazz Competition at La Défense, Paris, in 2006. In 2010 he won the ZKB Jazz Prize with the Marc Perrenoud Trio.
Whether solo, in a trio or with the group Aksham, Marc Perrenoud plays with several formations and performs in many concert halls and festivals around the world such as the Montreux Jazz Festival, Jazz at Lincoln Center, Snug Harbor, Ronnie Scott's, the London Jazz Festival, the Buenos Aires International Jazz Festival and Jazz in Marciac. He also has also performed in the major Chinese cities (Beijing, Shanghai, Hangzhou), Hong Kong, and Taipei, Taiwan.
His rich discography includes numerous solo, duo and trio recordings. In 2006 he released Stream Out, a duet with French drummer Sylvain Ghio, which was nominated for "Best Jazz Record 2006" by the American magazine All About Jazz. He released in 2023 a new album with David Enhco in tribute to Chet Baker.
In 2007, he won the Patino Grant, in collaboration with the Cité internationale des arts de Paris, and performed at the Sunside and the Duc des Lombards, among others. He undertook his first tour with his trio and visited Argentina, Uruguay and Chile.
In 2008, he released Logo, a trio album on the German label Neuklang, which was one of the best-selling jazz albums of 2008 in Switzerland. The album was unanimously praised by international critics.
In 2012, his second trio album Two Lost Churches, released on the Challenge International records label, was voted "Revelation" by the French magazine Jazz Magazine. In 2013, his 4th album Vestry Lamento, released by Challenge International Records, was elected "Record of the Month" by the American magazine Downbeat, a worldwide reference in the jazz world, as well as "Revelation" by the BBC Music Magazine.
He released Hamra in April 2016, his first solo album on Unit records, described as "masterpieces" by Le Temps. In 2020, his 5th album as a trio, Morphée, received 4F (the highest rating) in Télérama magazine.