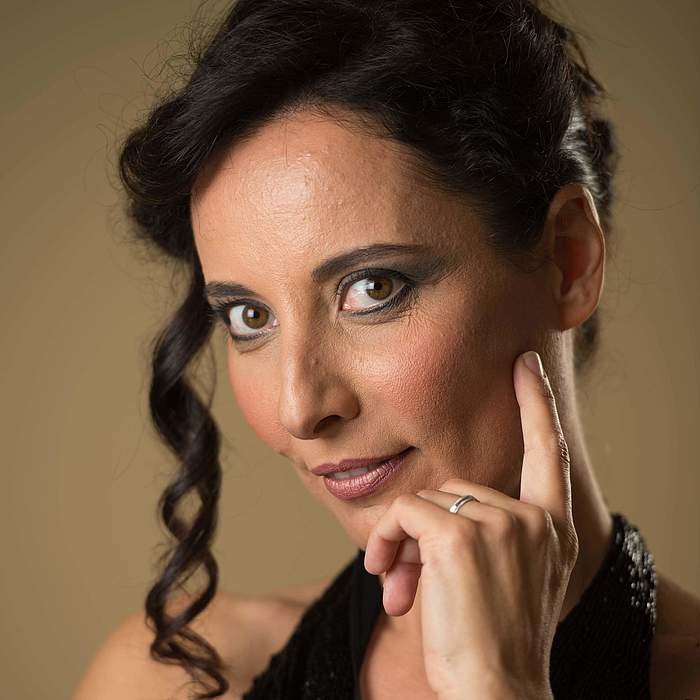 Lucia Cirillo began her career as an opera singer by winning several major competitions such as the AsLiCo and the prestigious Concorso Internazionale Toti dal Monte. In addition to her substantial work in classical guitar, she studied singing with Adelisa Tabiadon and John Janssen. She continued her training with Bruno De Simone and Regina Resnik, refining her operatic repertoire, and with Conrad Richter and Dunja Vejzovic developing her sensibility for German Lieder. Lucia made her operatic debut in Il Cappello di paglia di Firenze by Nino Rota. Shortly after, she sang the title role in La belle Hélène by Jacques Offenbach and Idamante in Idomeneo by Mozart for both the Circuito Lirico Lombardo and Toscano.
Her rich and unique voice took her to the most important theatres, festivals and concert venues throughout Europe, such as Salzburger Festspiele, Teatro alla Scala in Milan, Opéra de Paris, Concertgebouw Amsterdam, Glyndebourne Festival, La Fenice in Venice, Teatro Comunale in Bologna. Lucia Cirillo's wide repertoire ranges from the Baroque – including Handel – through Mozart to Rossini and Bellini. She has worked with world-renowned conductors including Fabio Biondi, Sylvain Cambreling, Ottavio Dantone, Diego Fasolis, Daniele Gatti, Vladimir Jurowski, Alexander Lazarev and stage directors such as David Alden, Hugo de Ana, Robert Carsen, Pier Luigi Pizzi. Lucia Cirillo regularly performs with the leading European Baroque orchestras, most notably Europa Galante, the Accademia Bizantina Orchestra, Il Giardino Armonico and I Barocchisti.
Among her past career highlights are Gluck's Orphée et Eurydice at Teatro Massimo in Palermo, Monteverdi's Incornazione di Poppea at Staatsoper Berlin, Mozart's Don Giovanni at Opéra de Lausanne, Così fan tutte under Christophe Rousset at Opéra de Wallonie-Liège, among others.
Recent and future engagements include a Mozart concert series at Opera Carlo Felice Genova, Bellini's Norma in a new Diego Fasolis/Stefano Poda production at Opéra de Lausanne and Vivaldi's Orlando furioso at Venice La Fenice. Lucia sings Bach's Christmas Oratorio for the Teatro del Maggio Musicale Fiorentino.