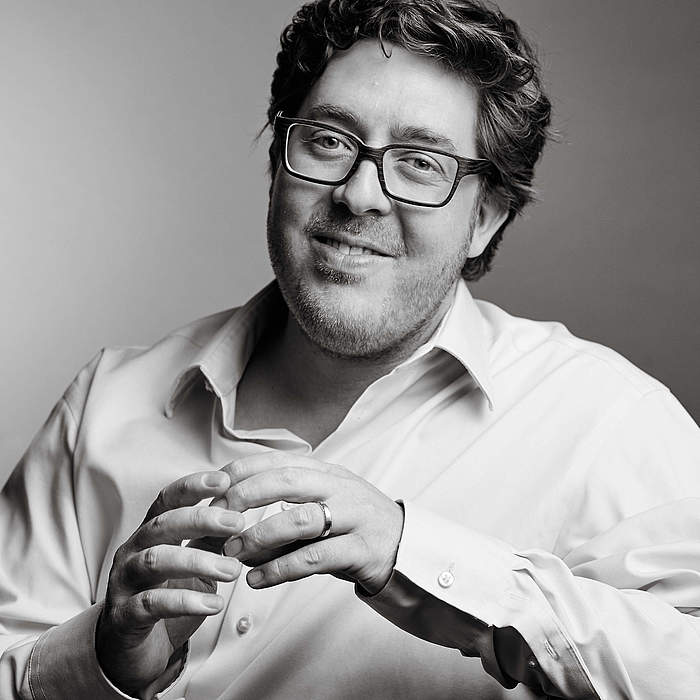 Born in Geneva and very active on the local music scene since the age of 16, Arsène Liechti studied at the Haute école de Musique in Geneva and Lausanne.
Formerly artistic and musical director of several amateur orchestras between 2005 and 2018, he has been Philippe Béran's assistant since 2006 with the Orchestre du Collège de Genève, with whom he has taken part in numerous OSR and Grand-Théâtre de Genève productions.
He is particularly in demand for projects that bring together young performers and professional musicians. His ability to create alchemy in this configuration is widely acclaimed, and has led him to collaborate successfully since 2013 with the Opéra-Théâtre company on projects such as Leonard Bernstein's West Side Story in 2017, Benjamin Britten's Le Petit Ramoneur in 2019 and Isabelle Aboulker's Les Enfants du Levant in 2022. Since 2014, this connoisseur of the orchestra has been a regular contributor to the OSR's educational and cultural outreach activities.
Arsène Liechti leads workshops on conducting as part of educational programmes and conducts concerts bringing together OSR musicians and primary school pupils from the Orchestre en Classe programme. The Geneva Chamber Orchestra has invited him on several occasions since 2018 to conduct programmes for young audiences, with pupils from the Cycle d'Orientation, with the singer Gaëtan and at the Am Stram Gram Theatre with the Jacot Family.
Since 2022, he has been in charge of the OSR's Portes Ouvertes outreach project, which aims to bring new audiences to concerts.