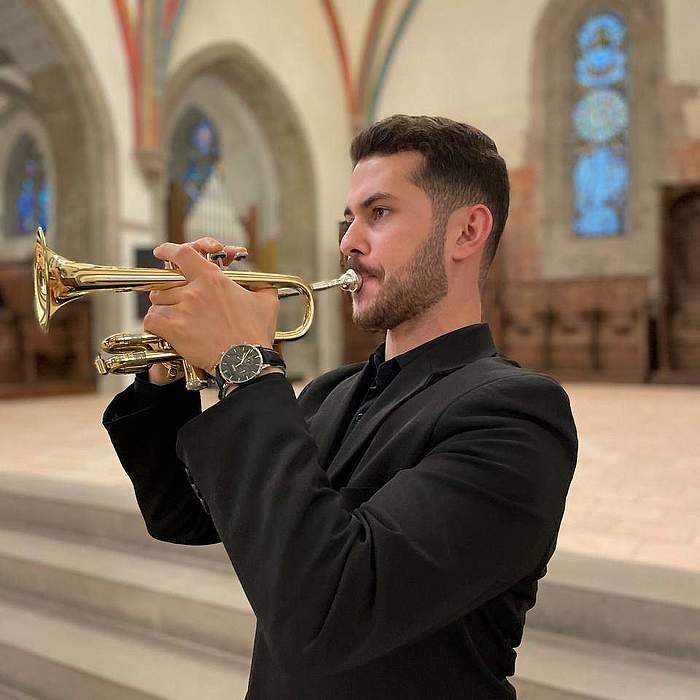 Born in Presidente Prudente/Brazil, Evandro discovered the trumpet at the age of 11 at the Fanfare of Estrela do Norte, where he grew up in the state of São Paulo. He continued his studies with Cícero Cordão at the Universidade do Oeste Paulista, and performed with various Brazilian orchestras, such as the Philharmonic Orchestra of Goiás, the Symphony Orchestra of Goiânia, the Youth Symphony Orchestra of Goiás and the Symphony Orchestra of the State University of Paraná in Londrina.
In 2018, he entered the Haute école de musique Geneva in the class of Gérard Métrailler where he obtained a Master's degree in musical interpretation and a Master's degree in orchestral music. He won the second prize at the National Competition for Musical Performance in Riddes and performed as a soloist with the Orchestra of the Haute Ecole de Musique de Lausanne in 2019. The following year, he won the "Prix de l'Association Ars Ventus " with the Elephant Brass Quintet at the Bucharest International Music Competition.
As a guest musician, Evandro has already performed with the Orchester de la Suisse Romande, Verbier Festival Orchestra, Camerata Venia, Orchester Nexus, as well as several Brass Bands in Switzerland.