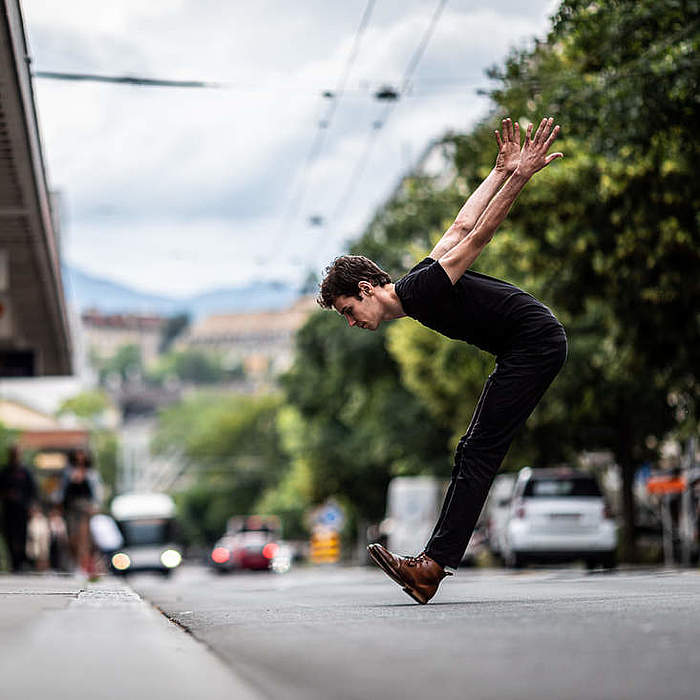 Since 2021, Daniel Leveillé has been co-directing his dance school, the Lar & Lev school, with Ivan Larson. At the same time, he teaches and performs tap dance, including his creations. He also manages numerous associations, as Carpe Rhythmum, which he co-founded in 2015 whose mission is to promote and disseminate tap dance in Geneva and Switzerland.
Daniel Leveillé was born in Geneva in 1994. He became passionate about tap dance early before his parents forced him to take classical dance classes. He completed ten years of dance training and studied various dances, including classical, salsa and contemporary styles.
World champion in children's tap dance at the age of 8, he went on to win six more solo world championship titles, including three in the "adult" category, between 2003 and 2013. He has won 9 Swiss and 16 World Championship titles in all category types.
In 2010, he joined Martin's Tap Dance Company, a Swiss dance company specialising in making noise with his body and various blunt objects. He danced in professional productions such as Box-Son in 2010, Danse avec les Mots in 2012, Clap the same year, Délits de danseurs dans débits de boisson in 2014 and Slap in 2015. He performed alongside Lukas Weiss and Daniel Borak in Funny Feet between 2015 and 2018 and was also invited as a soloist by the Association pour la danse contemporaine for the Antigel festival in 2012 and 2015. He was the choreographer for the Institut Jacques-Dalcroze and was invited by the OSR for the opening of the Musiques en été festival in 2018. He is a member of the Stomp troupe whose show, created in 1991, has been touring the world since then.
He has created his jazz trio, the Daniel Leveillé Trio. In 2021, he will present his first creation, a one-person dance show entitled En attendant John Bubbles.