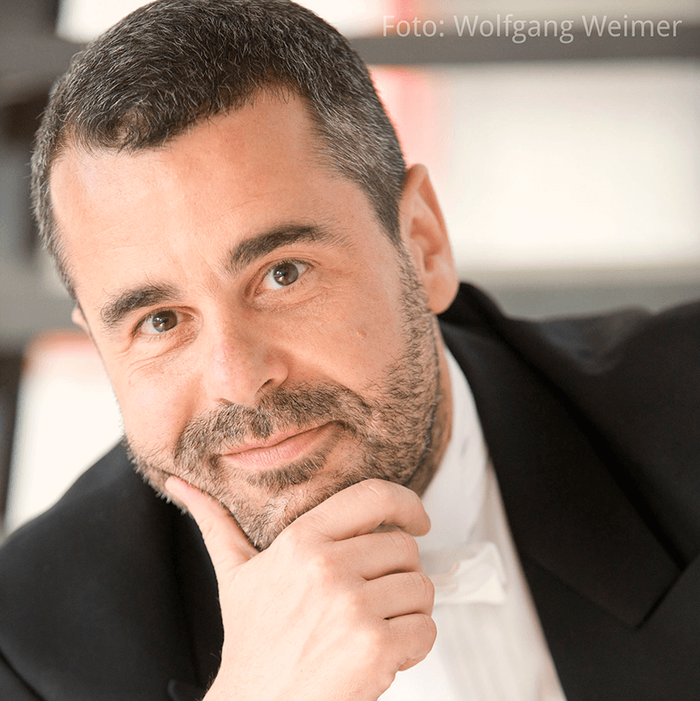 Celso Antunes has been conducting the Chamber Choir of the HEM – Geneva since 2011 whilst continuing to work as a choir director at the school.
Born in 1959 in São Paulo (Brazil), Celso Antunes studied conducting at the Musikhochschule in Cologne (Germany). From 1994 to 1998, he directed the Neues Rheinisches Kammerorchester in Cologne as well as the Belgian contemporary music ensemble Champ d'Action (1994-1997), which he conducted in numerous world premieres. As an artistic director, he made a decisive contribution to the outstanding development of the National Chamber Choir of Ireland in 2002. From August 2008 to March 2012, he conducted the choir of the Dutch radio Groot Omroepkoor.
Between 2012 and 2016, Celso Antunes worked as Associate Chief Conductor with the São Paulo Symphony Orchestra (OSESP), Brazil. He also conducts the Camerata Fukuda (Brazil) and teaches choral conducting at the Haute école de musique de Genève. He is also frequently called upon as a conductor or choir director.
Flexibility is the key to Antunes' leadership. His extensive repertoire covers Renaissance choral music, 18th and 19th century orchestral music, and contemporary music, of which he is a devoted advocate. This commitment led him to collaborate with various prestigious contemporary ensembles, such as the Nieuw Ensemble and the Ensemble Modern. He is also involved in numerous festivals, such as the Salzburger und Berliner Festspiele, Donaueschinger Musiktage und City of London Festival.
Antunes regularly works with some of Europe's leading choirs, including the SWR Stuttgart Vocal Ensemble and the BBC Singers in London.
Celso Antunes has recorded for many labels. Among his recordings is the CD Canto a Sevilla (works by Joaquin Turina), nominated for the 2011 Grammy Awards.