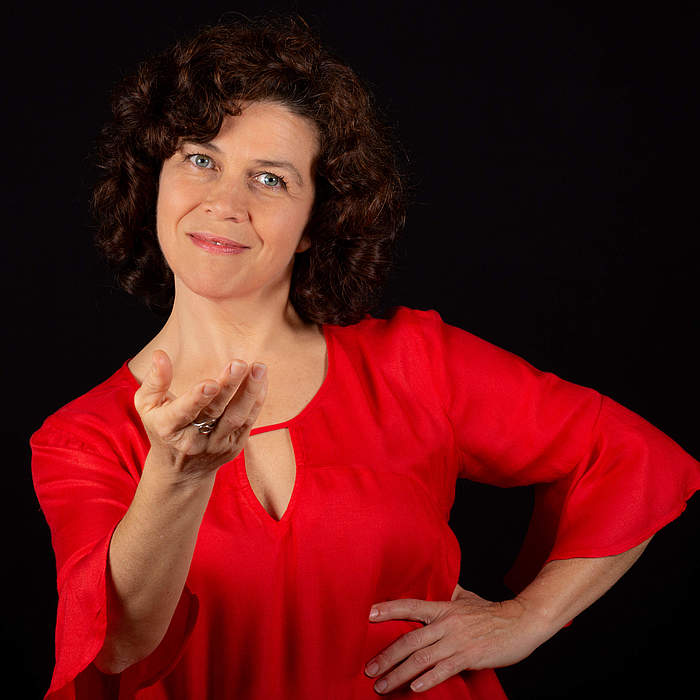 Like a meiga, a Galician sorceress, from her native land of spells and enchantments, Casilda Regueiro brings stories from the oral tradition out of the mist of oblivion. After years of singing, dancing and having acquired a solid theatrical training, Casilda brings tales to life by going beyond simple narration. She uses her voice, expressiveness and presence to transport the audience into imaginary worlds where anything is possible.
Casilda began her career as a professional storyteller more than twenty years ago with the internationally renowned British storyteller Tim Bowley. She owes him the art of simple and authentic storytelling. Since then, she has given more than two thousand performances on several continents, as well as numerous storytelling courses. She has performed in festivals and libraries, in schools and theatres, in churches, prisons and caves!
In 2009, she imported the concept of bilingual storytelling to Switzerland. Spanish, English, French and German are her working languages. She has toured extensively in the orientation cycles and primary schools of Geneva with bilingual English-French shows.
She subsequently initiated a new adventure, combining storytelling with music. After first performances with the Orchestre de Lancy-Genève, under the direction of Roberto Sawicki, she went on to perform with the Quatuor Terpsycordes (First Prize at the Geneva Competition 2001) and more recently with the Orchestre de la Suisse Romande in Peter and the Wolf.