Bâtiment des Forces Motrices
Geneva
Have you ever thought of enjoying music not only in a listed historic monument, but in the middle of the Rhône? Our concerts at the Bâtiment des Forces Motrices offer this unique possibility!
Built between 1883 and 1892, the primary function of the BFM was to supply water from the Rhône to the fountains, houses and factories of Geneva. In 1988, the building was classified as a historical monument. Today, it's new role is to entertain you in its fabulous hall made entirely of timber: the Théodore Turrettini Hall. The hall accommodates up to 801 people in the stalls and 144 on the balcony.
The OSR had the privilege of celebrating its hundred-year anniversary at the BFM. Many events took place across the anniversary weekend, from "Petites Oreilles" concerts for children, and a series of evening concerts. And the OSR didn't stop there: it hosted the public to try out instruments, as well as a variety of other events such as lectures, workshops, dinners and more.
Now you can come and discover the OSR's chamber music ensembles on Sunday mornings at 11am, with a varied programme as part of the Musique sur Rhône series. It's a real opportunity to broaden your knowledge of the classical repertoire while witnessing the close collaboration between the musicians. Fancy a Sunday brunch? No problem! The BFM's location makes it easy to find something to eat within a 5-minute walk.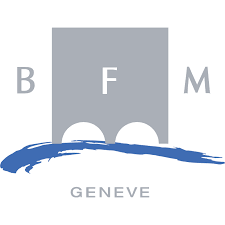 Place des Volontaires 2 1204 Genève+41 (0) 22 322 12 20
how to get here ?
bus/tram stop
Stand: 4, 14, 15 and D
public parking
Parking Hôtel des Finances
practical information
Access for people with reduced mobility :
The BFM has 5 places for disabled people. As the building is on several levels, electric platforms/lifts are installed at each staircase. The disabled places are located on the garden side, on the 20th row. Accompanying persons are also offered a free seat (one accompanying person per disabled person). Please call our ticket office on +41 (0)22 807 00 00 to make your reservation. Access for disabled persons is via the main entrance.
Place des Volontaires 2 1204 Geneva
+41 (0)22 322 12 20
Programme
Find the programme and subscriptions related to this place