Tour: Cologne & Bremen
programme
Jonathan Nott
conductor
Khatia Buniatishvili
piano
Arthur Honegger
Rugby, tone poem No. 2
Sergeï Rachmaninoff
Concerto for piano and orchestra No. 3 in D minor op. 30
Igor Stravinski
Petrushka, ballet burlesque in four scenes (original 1911 version)
---
the music
The first leg of the Orchestre de la Suisse Romande's Northern European tour will take it to the Cologne Philharmonic (for the first time since 2014) and for another "first", to the elegant art deco "Die Glocke" hall in Bremen.
Arthur Honegger was a man of his era; he loved speed, beautiful cars and sports. Last season the OSR gave a glorious performance of his first symphonic poem, the famous locomotive Pacific 231. For this season, we give homage to Rugby (Symphonic Movement No. 2), premiered by Ernest Ansermet in Paris in 1928. This detailed rhythmic study – true to the precision of the Swiss composer - illustrates the vivacity and improvised nature of a rugby match.
Rachmaninoff was one of the great pianists of his time. Intent upon conquering America as both composer and soloist, he wrote his famous Concerto No. 3 in D minor and performed it in New York with Gustav Mahler.
The original recording of Petrushka by an OSR conducted by Ernest Ansermet at the very beginning of the vinyl era in 1950 propelled the orchestra to fame across the whole world; thanks to it's musicality and exceptional recording quality for the era. The evening's concert will present the 1911 version for large orchestra conducted by Jonathan Nott.
---
the artists
---
the venues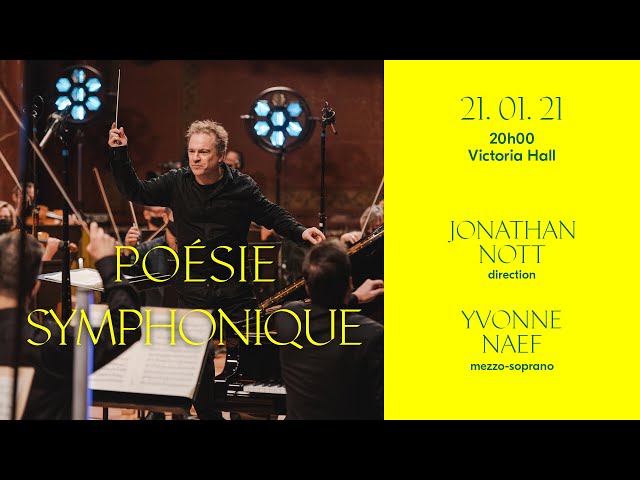 JONATHAN NOTT
Conductor
Yvonne Naef
mezzo-soprano
György Ligeti
Poème symphonique, pour cent métronomes

Johann Sebastian Bach
Komm süsser Tod (orchestration by Leopold Stokowski)

Gustav Mahler
Kindertotenlieder, for mezzo-soprano and orchestra
Recorded on 21 January 2021 at Victoria Hall, Geneva