The Gold Rush
Thursday
15.09.2022
19:30 — Bâtiment des Forces Motrices
film concert
non-subscription concert
programme
Charlie Chaplin
The Gold Rush
---
the music
Actor, director, filmmaker and composer, Charlie Chaplin has left his mark on the history of cinema. Through masterpieces such as The Gold Rush, The Immigrant, Shoulder Arms and The Kid, Chaplin brought a new dimension to comedy, not only through his extraordinary acting skills and creativity, but also in the study of characters, emotion and social satire present in his films. 
The Gold Rush tells the tale of the Lone Prospector, a valiant weakling, seeking fame and fortune with the sturdy men who marched across Chilkoot Pass into the great unknown in the mad rush for hidden gold in the Alaskan wilderness. Lonely, his soul fired by a great ambition, his inoffensive patience and his illchoosen garb alike made him the target for the buffoonery of his comrades and the merciless rigors of the frozen North.
Silent films were never silent: the live musical accompaniment played during the screenings was an essential part of the cinematic experience. The OSR offers a unique opportunity to relive this experience, accompanying a live projection of The Gold Rush in the magnificent Bâtiment des Forces Motrices.
Several versions of the score were created for this film, and the OSR will perform a version dating from 1942 which Max Terr performed as musical director - he went on to be nominated for an Oscar in 1943 for the original score of the film in the category "Best Music for a Drama or Comedy". 
Music composed by Charles Chaplin in 1942 when he edited the film slightly, took out the title cards and added a narration to the film, thus making it a sound film.
Score restored and adapted for live performance to fit the original silent 1925 version (with reinserted title cards) by Timothy Brock
Copyright of both original and revised scores: © Roy Export SAS - Roy Export Company
© Establishment and Bourne Co. All rights reserved.
---
the artists
---
the venues
Bâtiment des Forces Motrices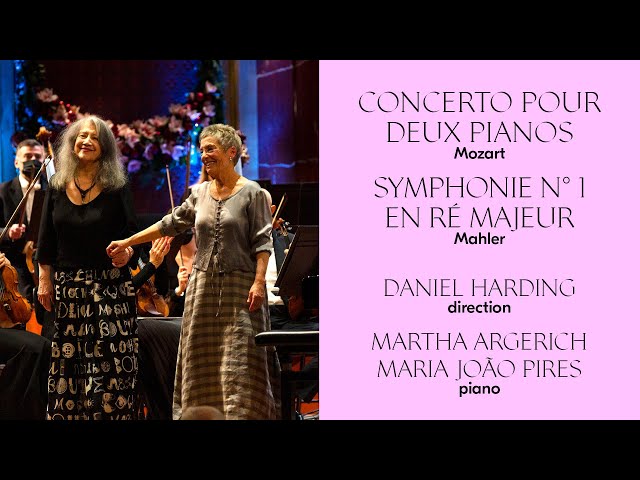 DANIEL HARDING
direction
Martha Argerich
Maria João Pires
pianos

Wolfgang Amadeus Mozart
Concerto pour deux pianos et orchestre No 10 en mi bémol majeur, KV 365

Gustav Mahler
Symphonie No 1 en ré majeur, dite 'Titan'
Recorded on 16 December 2021 at Victoria Hall, Geneva