The OSR celebrated a happy anniversary
The serie of "concerts pour petites oreilles" has given its 100th performance!
The concert on 14 October 2023 marked the 100th performance in the concert series for little ears! On the programme for this festive day was the famous tale of the Three Little Pigs, adapted and revisited by Corinne Baudet, narrated by Antoine Courvoisier and brought to life by four of our musicians: Matteo de Luca, Vincent Métrailler and Andrea Bandini on trombone, not forgetting Ross Knight on tuba in the role of the wicked wolf. The musicians were dressed up for the occasion, and afterwards the children were able to blow out the candles on a birthday cake! As usual, the concert ended with an instrument-trying session for the children, who were delighted to test their breath with the brass instruments. These sessions are a real opportunity for the youngest members of the audience, who benefit from close contact with the instrumentalists and the chance to exchange ideas and develop their aural, rhythmic and vocal skills.
Charlotte de Senarclens, President of the Fondation pour l'Orchestre de la Suisse Romande, was on hand to welcome the young music lovers and share this moment with them: "Dear children, our aim today, as it is every time you attend a concert, is for you to feel at home, to feel at ease and comfortably seated to enjoy this music with the musicians of the orchestra, to learn to love it, to discover their instruments, and above all to share a good moment in their company".
The lovely report produced by RTS clearly reflects the warm atmosphere and good humour of all the participants!
Supported by the MKS and Ernst Göhner foundations, this concert series was launched in 2014 with the aim of introducing classical music to children from the age of 4. Since its inception, over 5,000 children have been gently introduced to the world of a small orchestra in 16 different productions. A victim of its own success, ticket sales for these concerts are beating incredible records: it takes less than 3 minutes for a production to sell out! The OSR has been organising concerts for children aged 7 and over for more than 30 years, and this year marks the 10th season to be open to the very young.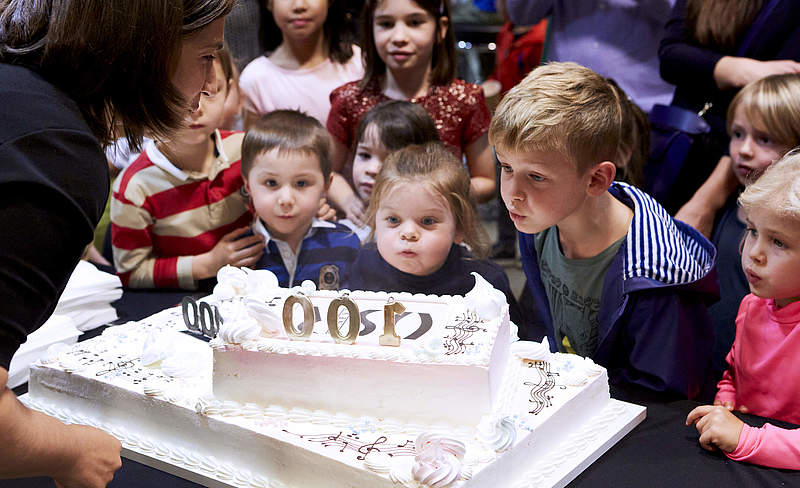 News list