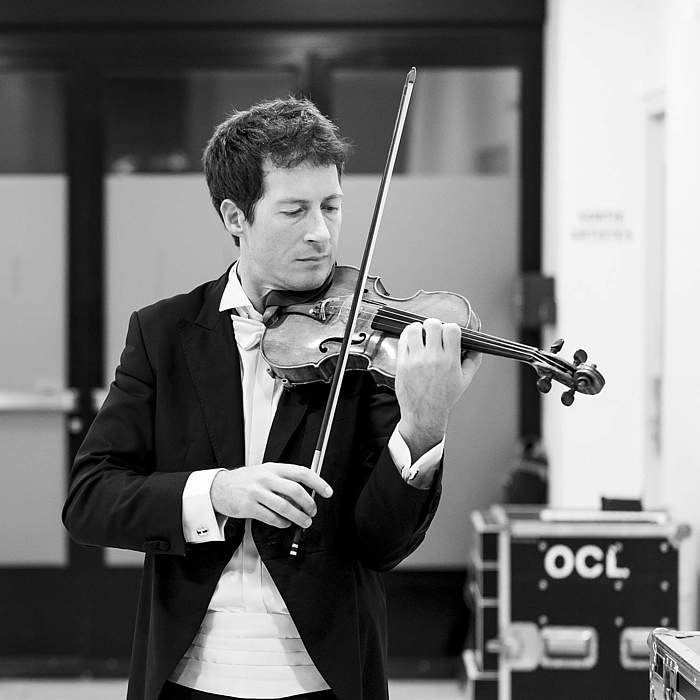 Born in 1979, François Sochard gave his first major solo concert at the age of eleven and entered the class of the Italian master Salvatore Accardo in Cremona.
In 1995, he studied at the Conservatoire National Supérieur de Musique de Paris and obtained First Prizes in violin (class of Gérard Poulet) and chamber music (class of Christian Ivaldi). In 1999, he obtained his diploma of higher education at the same institution. He also studied with Pierre Amoyal at the Lausanne Conservatoire, where he obtained his virtuosity diploma and the Max Jost Prize in 2002.
In the same year François Sochard recorded his first CD live with Radio France. Winner of international competitions (Sarasate in Spain, Lipizer in Italy) and of numerous foundations, he is invited to Europe, Asia, South America and the United States to give numerous concerts and visits Japan every year with the Gabriel Quartet of which he is a member.
Since 2006, François Sochard has been concertmaster of the Orchestre de Chambre de Lausanne. He also assists Renaud Capuçon in the violin class at the HEMU (Haute école de musique de Lausanne).